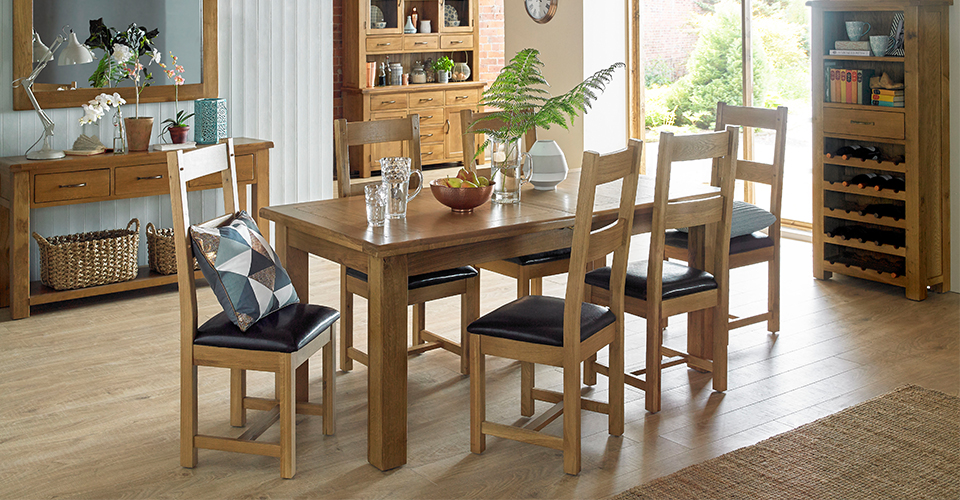 It's official! Autumn is here and for many people, it's a favourite season due to the lovely warm gold and rusty red colours of the leaves on the trees and the mellow sunshine. But of course it also means that winter isn't far behind, so today we're taking a look at our top five inspirational home products that will help to add warmth and cosiness over the colder months to come.
Solid Wood Dining Table for Christmas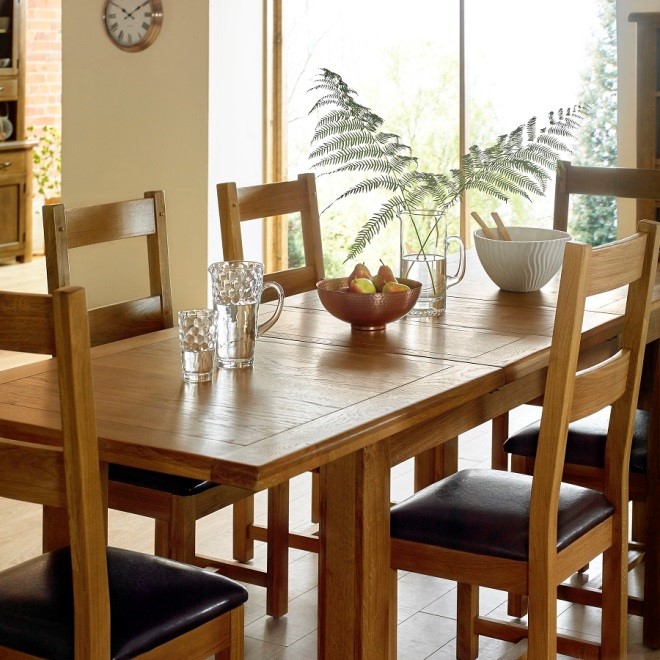 Christmas is all about bringing family together and a dining table is an essential item. It's where everyone likes to sit and talk for hours on end, over a delicious meal or Christmas cake and coffee. There is something for everyone in our extensive collection of dining tables, which range from oak to sheesham wood. A particular favourite for Christmas is our Barham Oak extending dining table. Oak is such a durable and beautiful wood, it makes an ideal table surface. Strong and with attractive natural markings that make each table unique, it offers a warm and inviting look to your dining room.
It's a piece of furniture that will last for years and years and you can watch your family grow up around this table, able to look back on many fond Christmas memories in years to come! Whatever size your family, there's ample room to seat everyone, too with the Barham as it comes in a choice of sizes, and leather upholstered seating to accommodate 4, 6, 8 or 10 people. You can even buy an additional pair of chairs if you wish. The simple and smart elegance of the Barham means it suits virtually any décor and will give your space warmth and character.
Area Rug for Added Warmth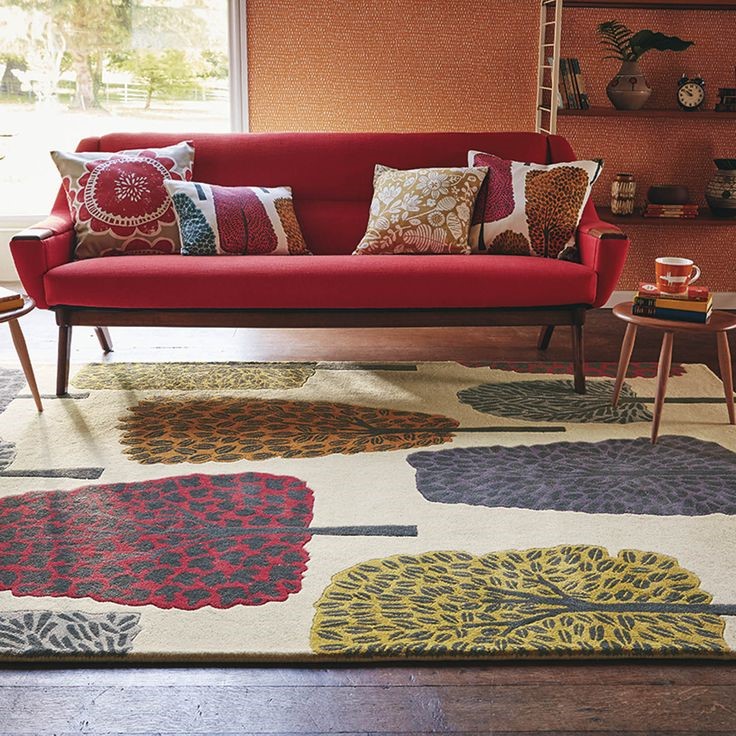 Cedar Rugs 24605 in Chilli by Scion, from The Rugseller.
With the ongoing trend for wooden or laminate floors, particularly in our living areas, it can feel cold underfoot in the winter. Not a problem if you have underfloor heating, but not all of us have it installed, so the next best thing is a large, cosy rug. A thick pile wool rug will give greater insulation than a thin, synthetic rug. They are more expensive, but generally better quality and will last.
You can look for a plain or patterned design that picks out colours from the rest of your room, such as your wallpaper or cushions, for a co-ordinated look.
Layer up with Throws and Blankets

Gotland Wool Blanket from Urbanara.
Treat yourself to a couple of toasty throws or blankets that you can wrap around yourself while watching TV on a winter's evening. If you do this, you may find you can even turn down the heating a little and save on fuel bills! Not only are they great for guarding against the chill, they look gorgeous draped on your sofas and chairs, adding some texture and warming layers to your living room when you need it the most. As with a rug, a woollen blanket or throw tends to be warmer than a synthetic one, although some modern polar fleece blankets are very effective too.
A Welcoming Fireplace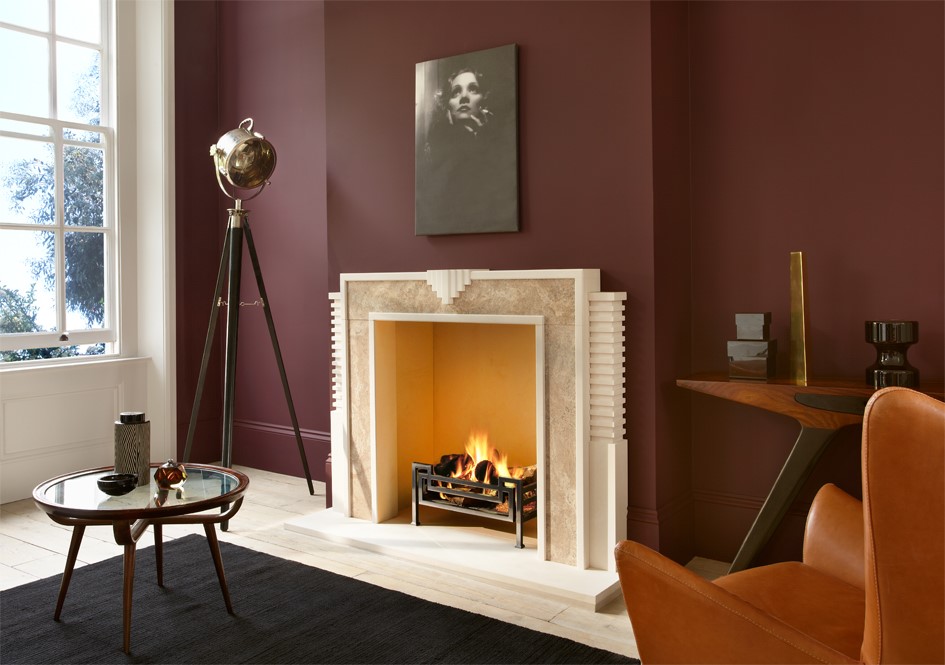 The Hulanicki Art Deco by Barbara Hulanicki at Chesney's.
If you are lucky enough to have an attractive fireplace, whether an open fire with a traditional surround, or a sleek and modern multi-fuel stove, it is a key feature to add warmth and a real focal point to a room in winter. If you have a mantelpiece, don't use it as somewhere merely to put your keys, phone and loose change! It deserves to be styled with some framed photos or pictures and lovely candle holders - you could try scented candles with the smell of winter berries, cinnamon, apple and spice to add a seasonal fragrance. With modern central heating, many of us have an empty space where a fireplace used to be, but it is still possible to make it a welcoming sight; if there is a stone hearth or an opening, why not use it to display candles in gorgeous lanterns to give a beautiful evening glow? Or what about this rustic idea to use logs as tea light holders?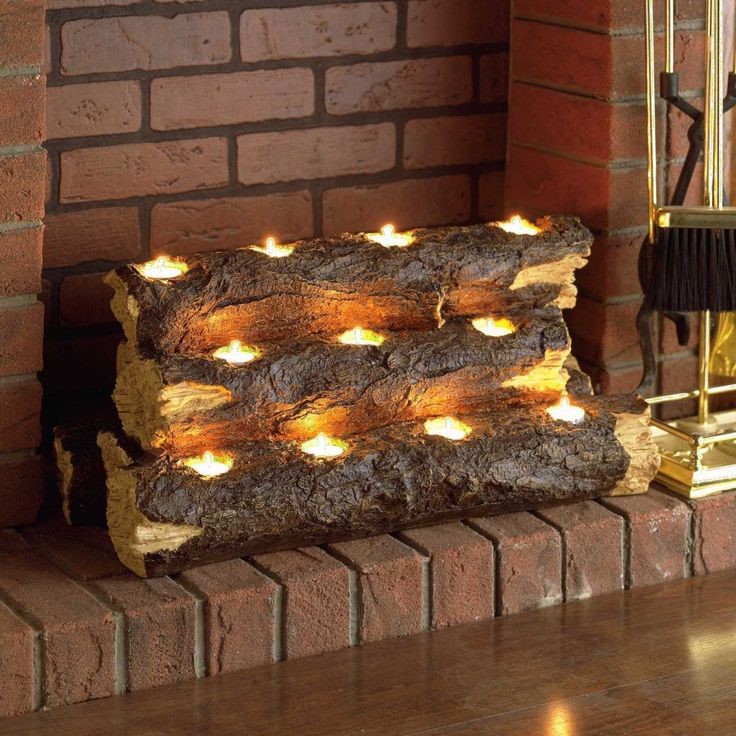 Image via Pinterest
Lamps and Lighting – the Finishing Touch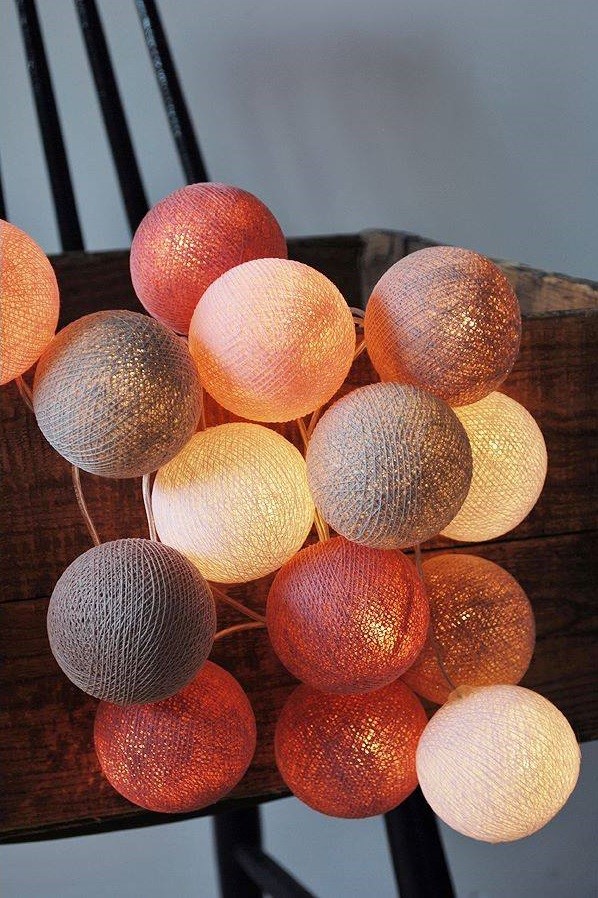 Cotton Ball Lights: http://www.cottonballlights.com/uk
It's important to create the right ambience in your home to make it feel extra cosy in winter and lighting is a great way to do this.
For a gentle and warm impression, these great Cotton Ball Lights give off a subtle glow and you can choose the colours of the cotton ball shades to ideally suit your décor.
With the growing trend for vintage style lighting, ambient vintage light bulbs can be just right to give a warming atmosphere and the filaments look beautiful too. So much so that you can leave them without a shade and suspend them from vintage-style cotton cables in lovely autumnal colours.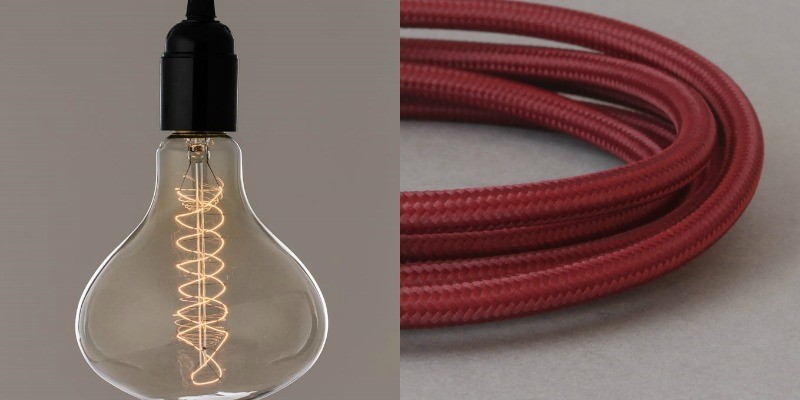 Vintage Light bulbs & accessories: http://www.dowsingandreynolds.com/
We hope these ideas have inspired you to think about the ways you can add some extra warmth and cosiness to your home. If you are interested in looking for additional ways, Pinterest - the online pinboard - https://uk.pinterest.com/ is a great source of ideas, for example you might like to create a hot chocolate station in your kitchen – great fun for the kids! And you may also find this very practical guide from netmums.com about keeping warm in winter useful: http://www.netmums.com/lifestyle/money-and-debt/keep-warm-this-winter
About Author - Antonia writes the blog Tidy Away Today and is passionate about home interiors and creating a warm and welcoming family home.