Country cottages are well-known for being cosy, handsome, and charming, which is why, even those who don't live in a cottage, seek this style for their own houses. Largely comprising of beautiful oak furniture inside, these cottages come equipped with stone or natural wooden floors, earthy colours, and by adding a few touches of your own, you can ensure your cottage stays comfy all year through.
As October arrives in haste, with it comes darker nights, and it is during this time, when it feels great to snuggle up at home with a cup of cocoa, draw the curtains, switch on the fire and settle down with a good book or movie.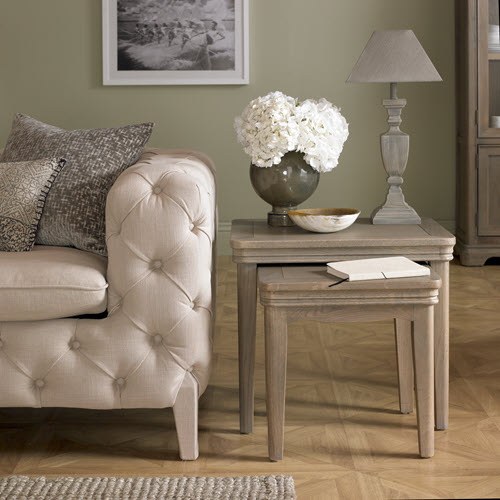 Dressing a cottage to look cosy and comfortable is vital for that perfect winter evening, and also important because you don't want to ruin the style and character by bringing in modern furniture & doing so, will disrupt the status quo. When dressing a cottage to look cosy, think of deep oak wood surfaces, deep shades of colour and lots of textures in the form of throws and cushions, as opposed to glass surfaces, white walls, and a bare minimum style.
Here are the secrets you need to create a warm, welcoming cosy cottage:
Earthy woody colours are made for cosy cottages
Traditional country cottages are decked in natural, earthy colours and are generally in several shades of warm browns. Often the palette for other parts of the house range from sage and spring greens, pale yellows and duck-egg blues, and quite often these are found in cottage kitchens and bathrooms.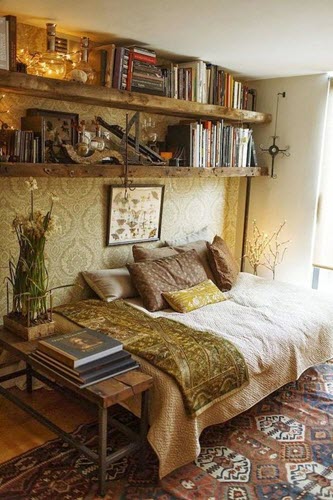 Floors are almost always kept to a natural state, so are often thick oak wooden floorboards or stonework. If you want to add cosiness to the floor, opt for a gorgeous neutral toned rug which will provide a softer surface to walk on.
Invest in some traditional oak furniture for your cosy cottage
The furniture used to decorate traditional country cottages has bags of character and can be mismatched to create a lived-in earthy look.
Warm coloured oak wood is a country cottage essential. Oak Dressers, oak cabinets and oak dining tables look particularly good in cottages, when made from wood with a warm tone, and can help to add extra cosiness to rooms too.
Oak furniture is a homely, stylish and rich decoration solution for any home, especially if you are looking to create a warm cosy feel. Oak has been used in furniture manufacture for centuries; it is one the most durable wood types, meaning your piece of handcrafted furniture will last a lifetime.
When you are buying oak wood furniture for your cosy cottage, think about the shade of your furniture – as you can get light yellow, darker or light brown shades in oak depending on the way the wood has been conditioned or treated. There are also numerous patterns available in oak that will fit with your interior tastes so take a look at a few different items before deciding on what you want to buy.
Any room can be made over with an earthy oak wood feel – such as in the kitchen, you could replace the standard splash-back kitchen worktop counters with traditional oak counters. Wooden counters add an instant sense of warmth to your kitchen that can't be achieved by any other countertop material.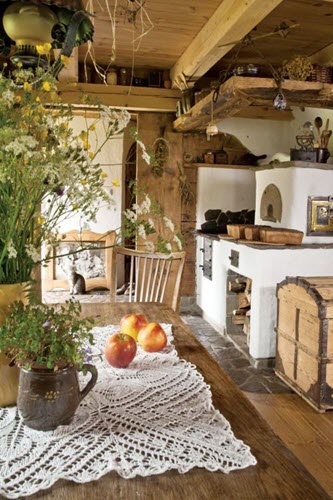 Or if you are looking to cosy up your bedroom style, invest in an intricately carved wooden bed frame as the centrepiece of the room. And in your living room, an oak cabinet, side tables and shelves can really add character to the place. The possibilities are endless when it comes to decorating your home with oak.
Throws and blankets in different textures and patterns
Lounging in a relaxing way is important in your home, and that's why we all love cushions, footstools and throws so much. Provide yourself and your guests a comfortable area to snuggle up, with a range of blankets, throws and quilts that can be accessed with ease. Achieve an effortless look by displaying two or three types of throws or blankets in different textures draped over a cosy armchair. Alternatively, you could store your blankets in a beautiful oak furniture blanket box like this one.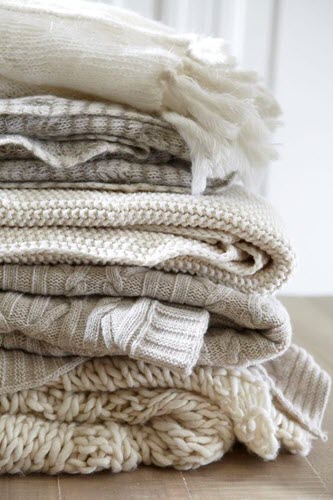 Follow our guidelines for creating the perfect cosy cottage, and furnish your home with warm and natural tones of finely crafted or antiqued oak furniture, use warm tones for your rugs, throws and cushions and ensure you have the fire on to ramp up the cosiness.