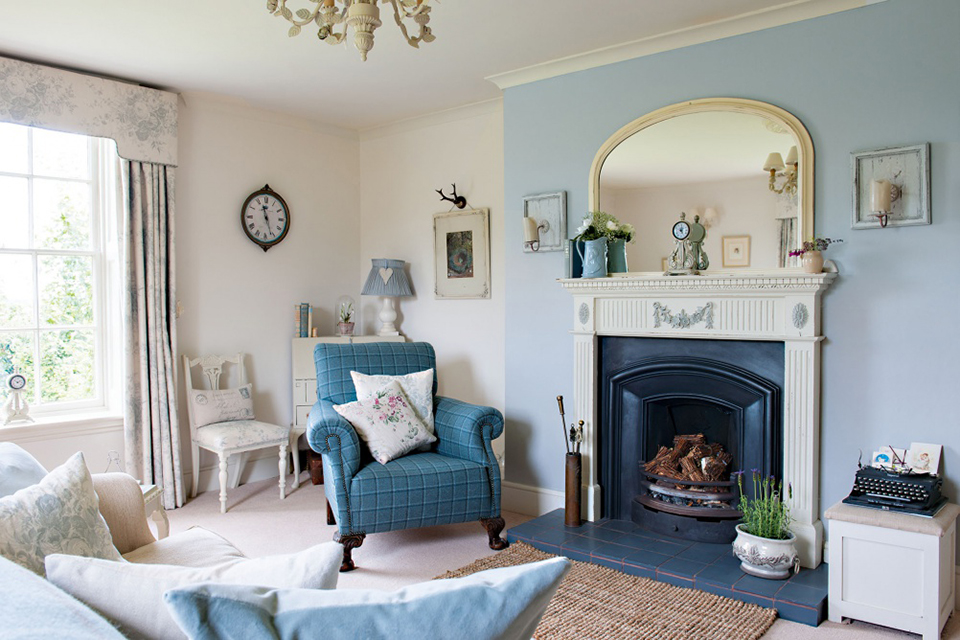 Elegant, timeless and comfortable. Considering these are the hallmarks to country cottage style, there's little wonder why its popularity continues to inspire so many to create this look in their own homes. There's a celebration of the imperfections and humble, ordinary treasures are mixed effortlessly with the quality furnishings of past generations, creating an atmosphere of relaxed creativity and unpretentiousness – qualities any one of us would be proud to imbibe ourselves.
If you feel more comfortable sat at a rustic old table found in a thrift store rather than the sleek hard edges of contemporary glass and metal and prefer a wild bouquet of flowers picked from your own garden dropped into a water jug rather than 12 long-stemmed roses in a crystal vase, this look is probably one for you.
But how do you create this timeless style for your own home? My post today will share a few tips on getting the look for your living room.
Accept the patina that occurs over time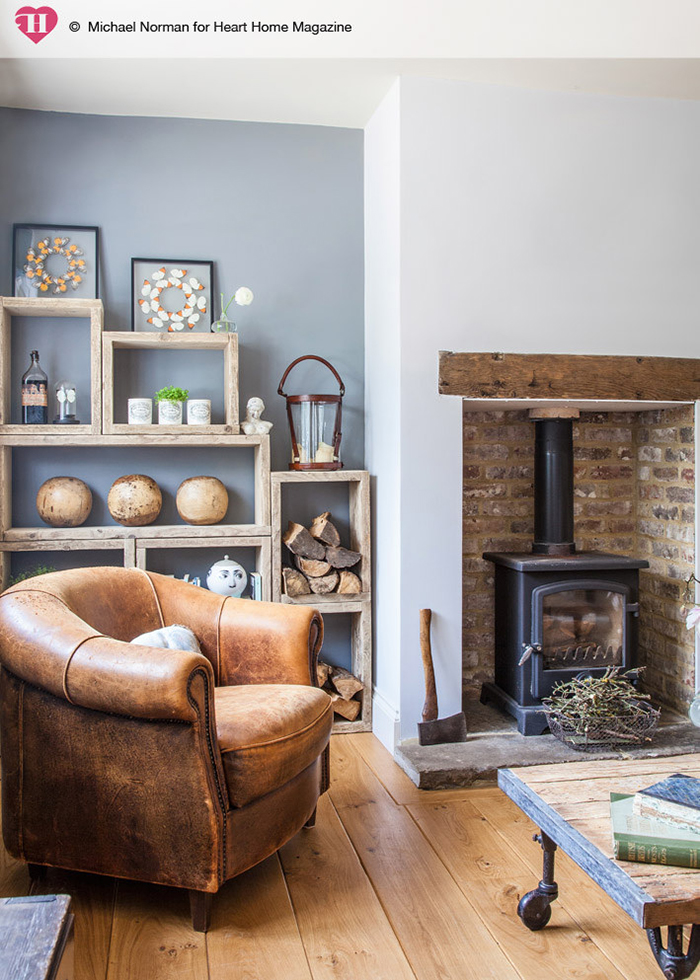 Country cottage style is all about easy relaxed living and so the natural wear and tear that comes with well-loved pieces is not only accepted but welcomed in incorporating the style. Consider matt paint finishes or get a distressed look by lightly sanding the edges of painted furniture to imitate the patina of an older piece. Pick up lovingly used pieces from thrift stores and antique shops, display vintage coloured glass, used ceramic pieces or mercury glass to finish off the look.
Consider a slipcovered sofa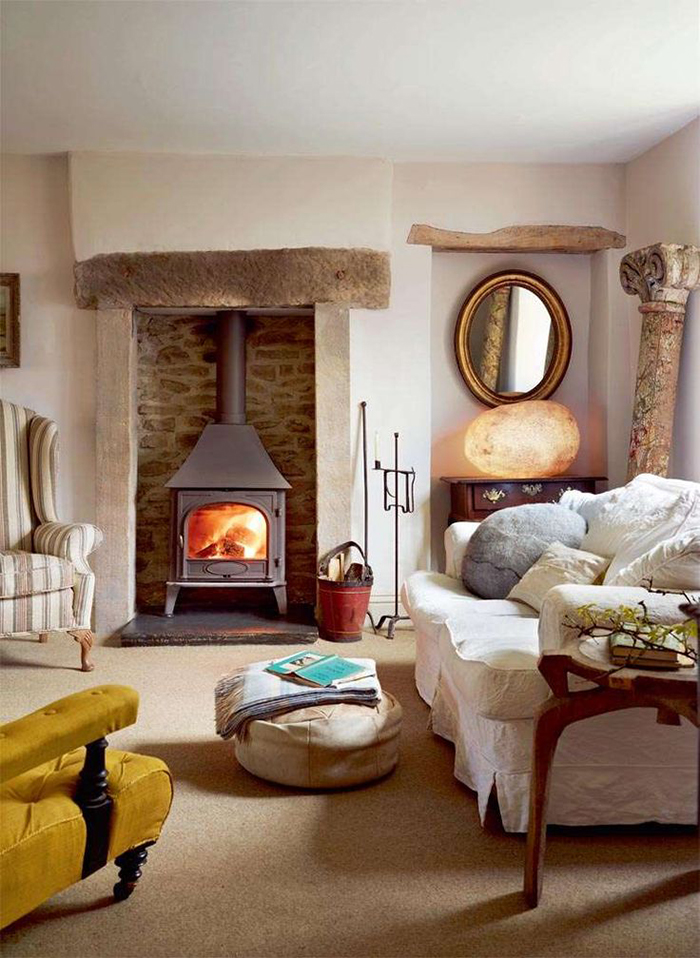 Borrowed by the shabby chic look but one that's steeped in practicality, slipcovered sofas are beautiful but also incredibly practical for country living. Children and pets are no match for the delights of this look which is part of its appeal - simply pop it in the wash to clean. The relaxed style creates a lived in elegance that's informal and comfortable.
Evoke a sense of history with antiques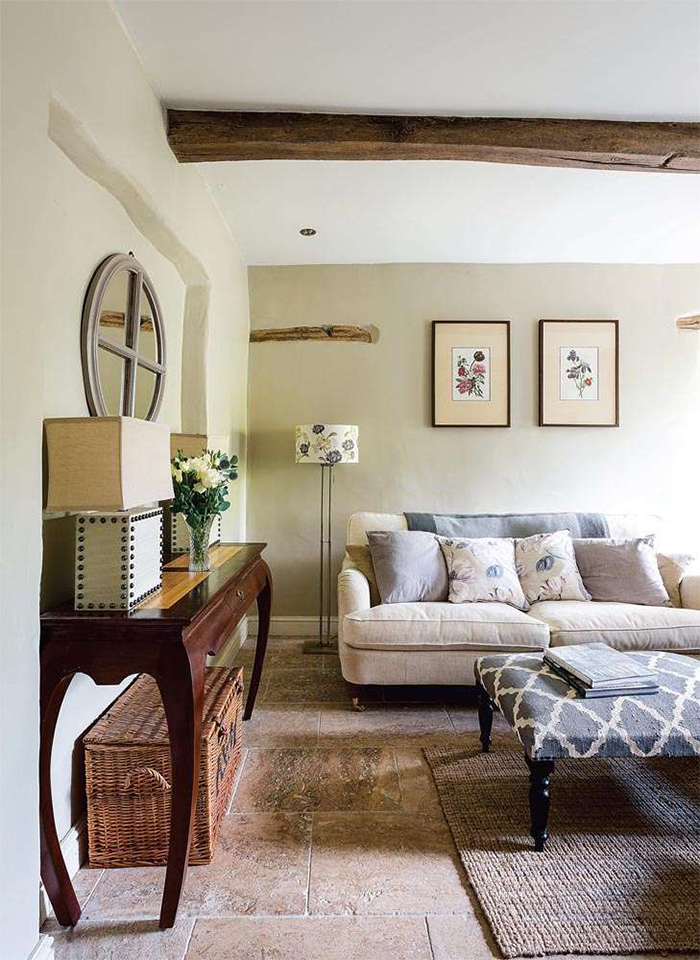 Mixing and matching is another hallmark of country cottage style living and there really are no hard and fast rules to what you can marry within your living room although again, you'll want to stay away from anything that's too angular or glossy here. Adding in the odd antique piece of furniture will create a layer of timelessness within your scheme and evoke a sense that your room has been collected and created over many years.
Add in faded floral patterns or tartan fabrics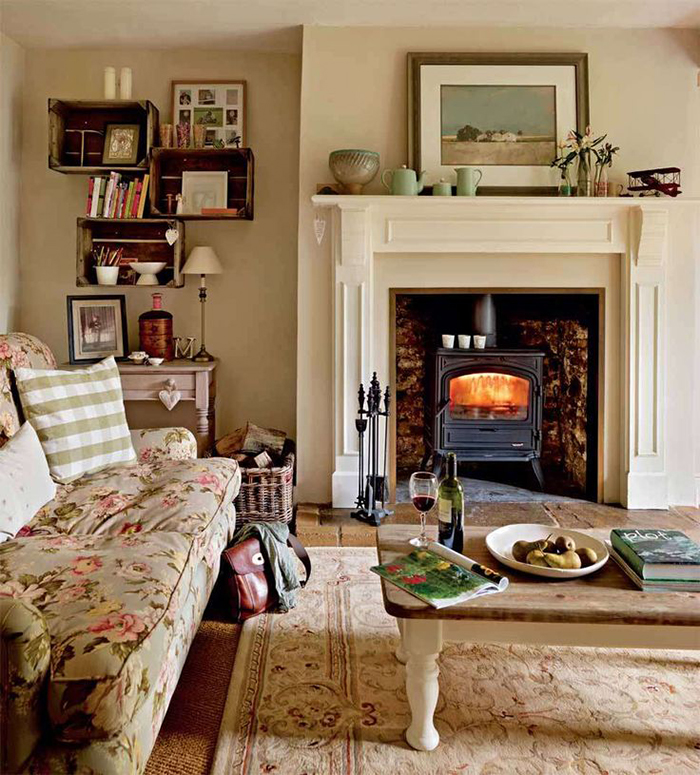 Given that country cottage style is all about comfort, then textiles are of paramount importance to this look. Faded florals give a feminine country edge and lend themselves perfectly to furnishings, curtains or cushions. Mix in some tartan fabrics or stripes for a traditional country look for balance and keep the colours soft, neutral or pastel. Avoid any bright or garish colours – this is all about relaxed simplicity that's easy on the eye.
Bring the outdoors in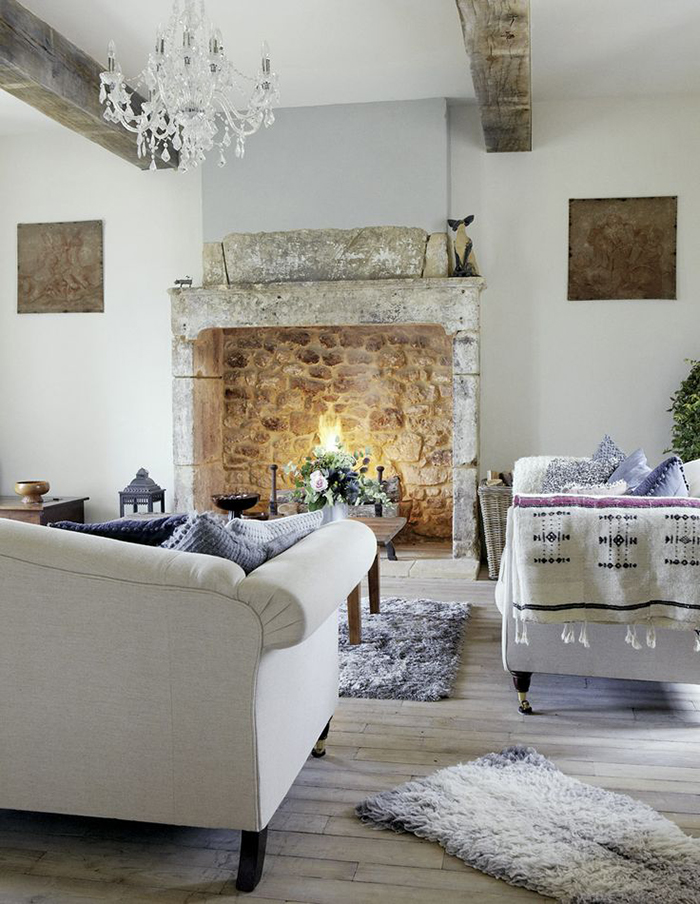 Embracing a country look will always revolve around nature and bringing in the beauty of the outdoors is another must-have for creating this style in your home. Wild flowers, hydrangea and faded roses are perfect either in jugs, mason jars or vintage tins, loosely arranged and informal dotted around windowsills, coffee tables or along a mantle.
Embrace your inner maximalist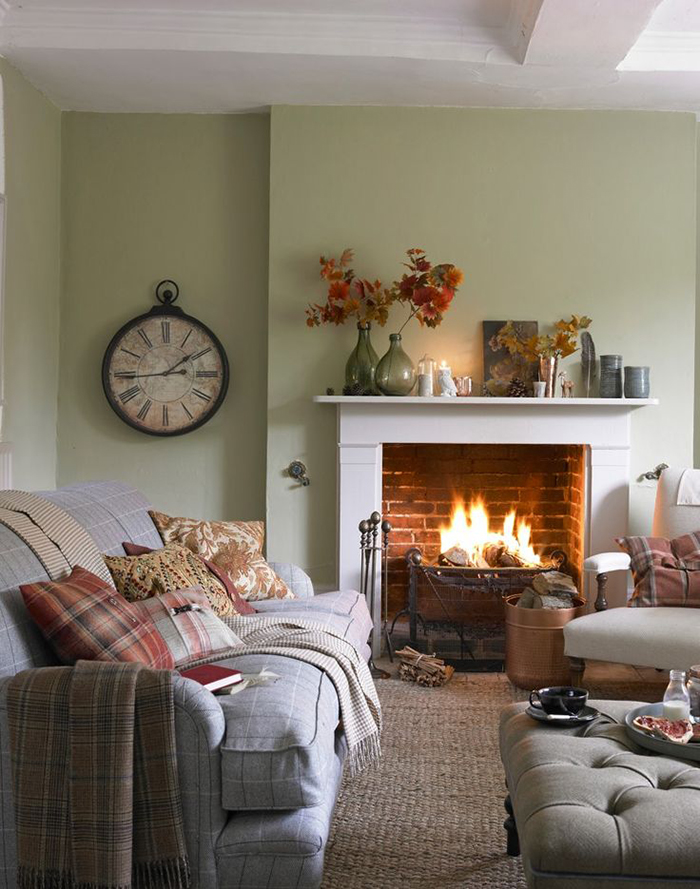 Country cottage style certainly does not allow for minimalism and you should be happy with a certain amount of what I like to call, 'artfully arranged clutter'. Certainly, you don't need to fill every surface with things if you aren't comfortable with that but it's really about allowing your collections to shine - especially on any kind of open storage – and is part of the beauty of creating a personality within a country style space. Displaying ceramics, glassware, books or vintage objects helps to tell the story of you and creates a busy, enjoyable atmosphere that only adds to this look.
Layer with natural textures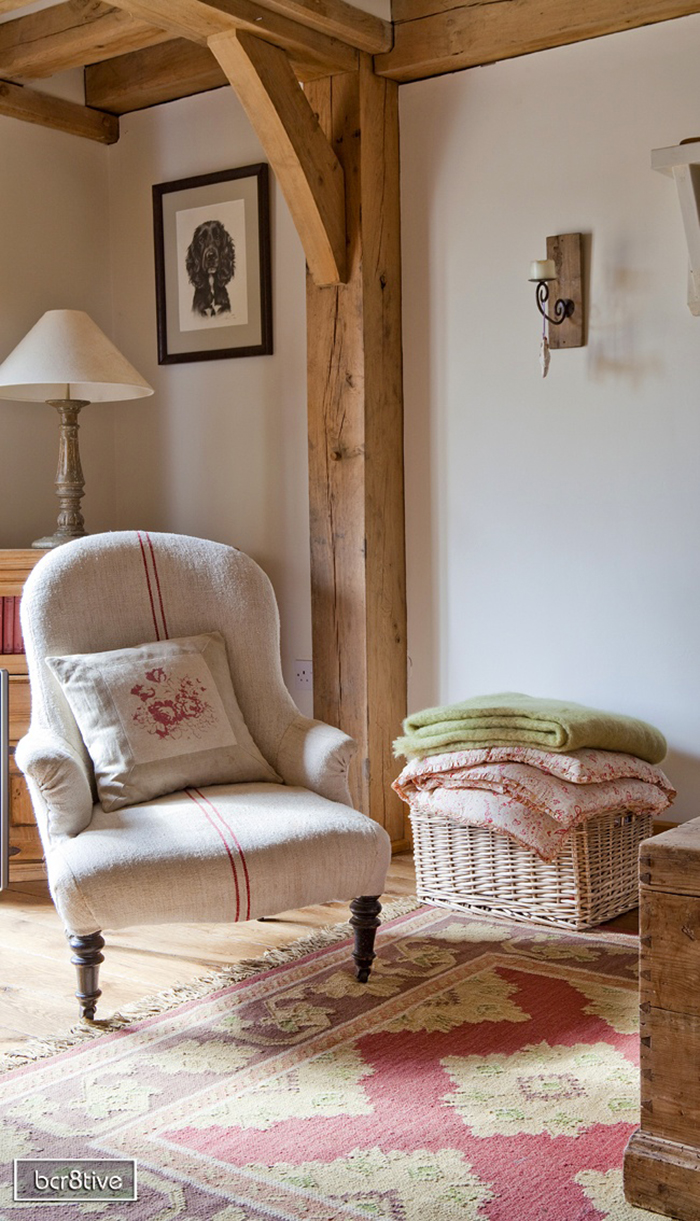 Finally, consider bringing in items like woven baskets and rattan furniture, rustic oak furniture and natural wood as well as smaller items like fallen branches, seashells, pinecones and other touch-me textures into your space. The rustic qualities of natural pieces creates visual layers within a space and makes for more interesting character and creativity.
I hope these tips will help you create your dream country cottage interior! Is this a style you love? How have you brought country cottage style into your own home? I'd love to hear from you in the comments!
Image sources: Jody Stewart for Period Living / Michael Norman for Heart Home Magazine / Darren Chung for Period Living / Jeremy Phillips for Period Living / Darren Chung for Period Living / Brent Darby for House to Home / David Brittain for Country Homes & Interiors via The Room Edit / Border Oak
Written by Kimberly Duran@SwoonWorthy