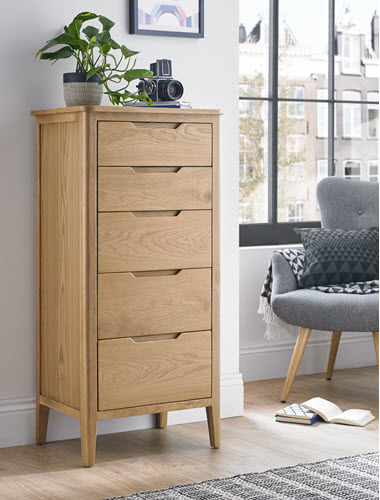 Small bedrooms can be transformed into cosy little havens with a few simple changes. It's difficult to fit all the basics such as a bed, wardrobe, chest of drawers and a desk into such a small space, but with these tips, you will love your small bedroom again!
Downsize your bed, a tad.
A kingsize bed will take up so much space in a small room, whereas if you get a double, you will not feel the difference yet it will look so much neater in a small bedroom. It will clear up extra space for a bedside table such as our Hayman Oak Small Bedside Cabinet with Drawer which is slim line and has plenty of space for those little trinkets.
Double hangers
Double hangers are a life saver for small bedrooms, they show off your wardrobe options and make space to hang extra things such as handbags, scarves and coats.
Get a risen bed
A risen bed means you can have plenty of under bed storage whilst avoiding storage boxes being everywhere. You can also get beds which are much higher that have the option for a desk, cupboard or a cosy chill out space underneath, perfect for a kids bedroom!
Use the wall space
Shelves are perfect for storing books, pictures and anything else that you can put up high to spare any floor space. Keep them quite high on the walls as this will draw the eye upwards and will make the room seem much higher than it actually is.
Big statement mirror
We all love a beautiful, big mirror. Buy a big mirror to fit in your small bedroom as this will reflect light around the room and will therefore make the room look so much bigger than it is.
Use your bed as a desk
We all have a desk in our bedroom ready to sit down and do some work, which we never use as we snuggle up in bed and do it there. Save the space of having a desk by adding a bedside shelf to store your laptop.
Choose a light wall colour
Light colour creates the illusion of more space. Think light greys, whites, creams or pastel colours. You can aways accent these with dark furnishings if you prefer the darker hues.
We hope our top tips will recreate your small bedroom into a much loved haven! If you would like more information on storage tips, head over to our website to view all of our oak, pine and sheesham wood furniture ranges.