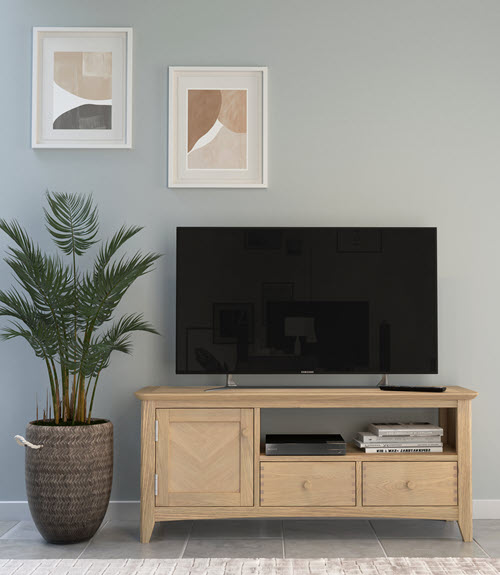 Magazine shoots, interior design books, lots of design-focussed websites always seem to have one thing in common: they refuse to admit that anyone actually watches television. If you look at inspirational design, for some reason, you'll rarely if ever see the big black box staring at you in any living room scheme. The reality is, however, that most of us have at least one television, if not more. And trying to find ideas for decorating around that big black box can be difficult when you can't see any inspirational examples of how to do it.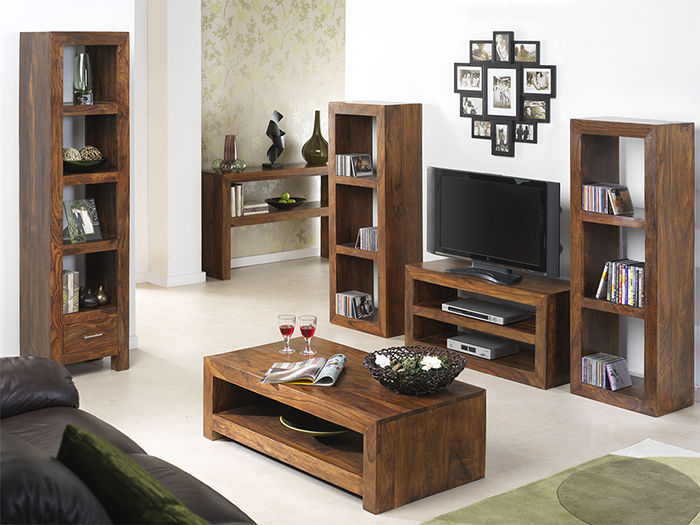 So today, let's lift the lid off the mystery. Yes, of course, you can have a television in your living room and while interior designers may refuse to believe it, it can actually look stylish and work within your own interior tastes.
In my own living room, I simply purchased a television with a white bevel to allow it to blend better against the pale grey walls and the white vintage cabinet that it's seated upon.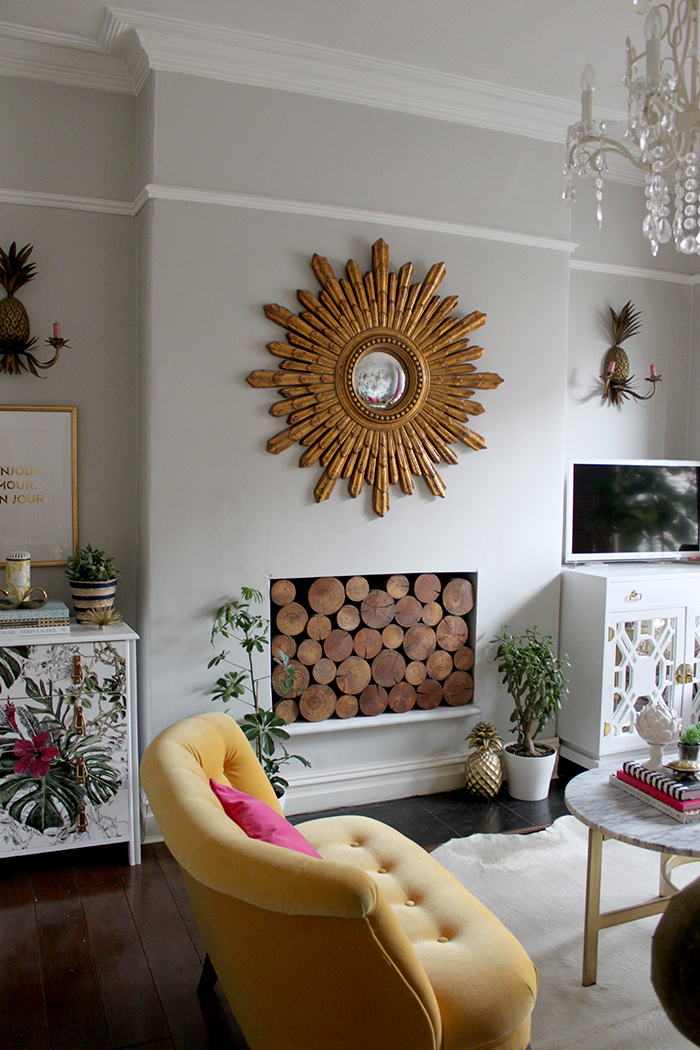 Of course, there are plenty of other ways to incorporate a TV into your design or disguise it within the scheme so that it doesn't create an eyesore in a well-designed space.
Create a Gallery Wall Around It
One of my favourite ways to disguise a television is to place artwork around it, making it look as though it's part of a bigger collection and removing the attention from it. Clearly, the TV is still visible but it's no longer the main focus in the room.
You can hang it on the wall as shown here…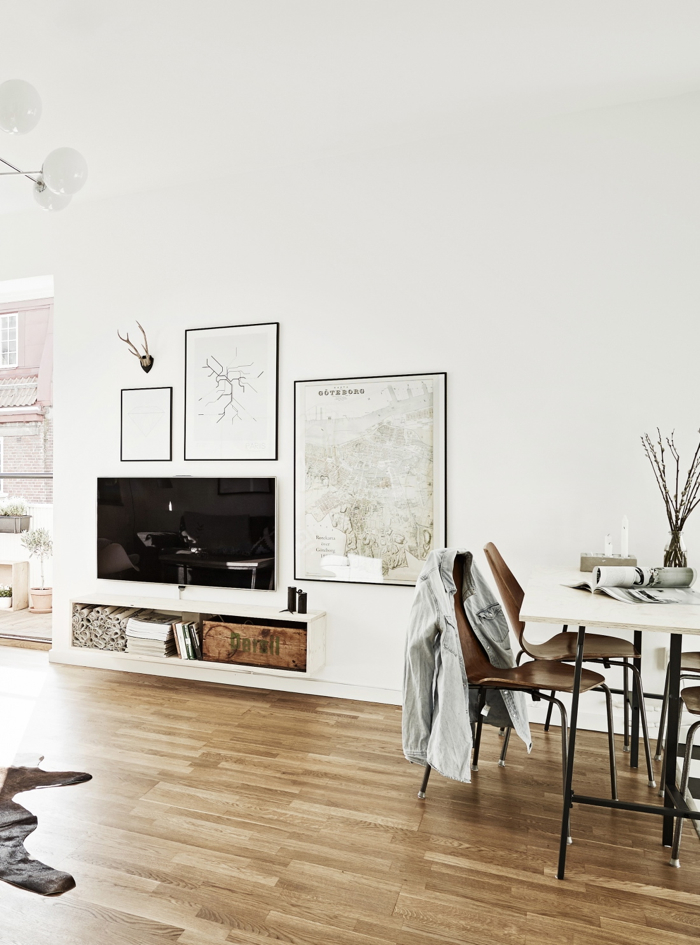 Or put the television on a stand and fill the walls behind it.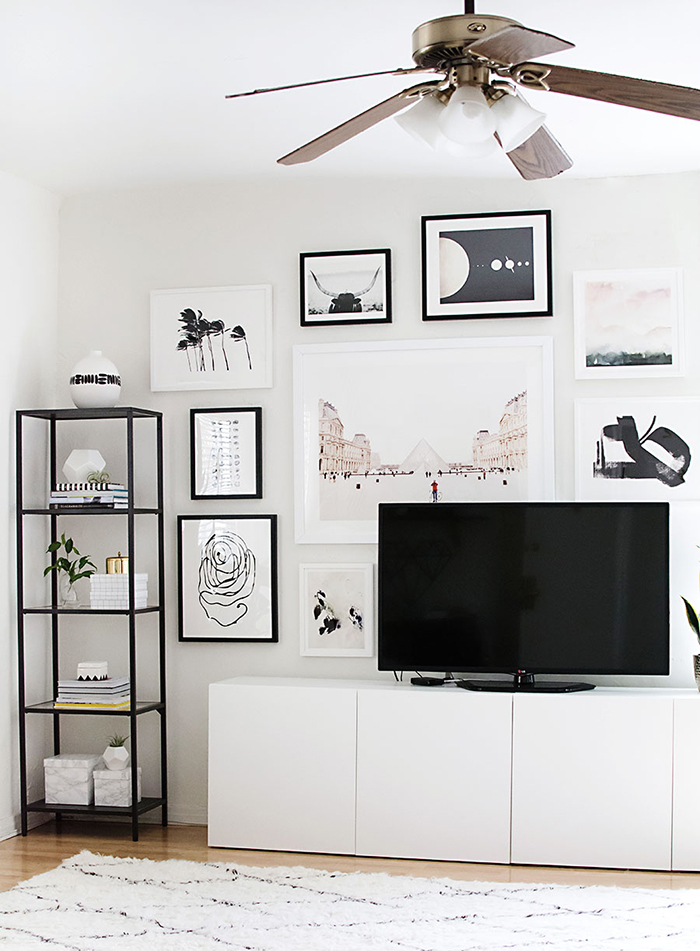 In both examples, they used larger artwork or similarly scaled artwork to the TV. Larger pieces will draw the eye and using images with some black in them will make the TV work as part of the larger scheme.
Flank It with Bookshelves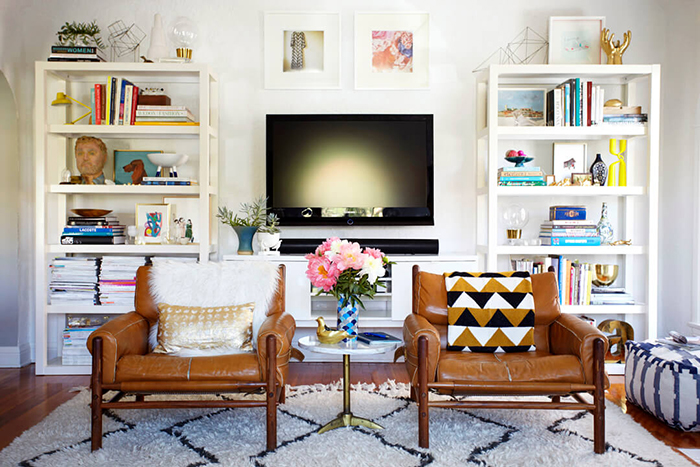 Whether you decide to use a built in shelving system or pair of freestanding bookcases as in the example above, flanking the television on either side is another way of detracting the eye and making the TV just a smaller part of a whole. Using decorative accents on your bookshelves will create a pleasing symmetry and create a stylish look, minimising the importance of the television in the room.
Disguise it in an alcove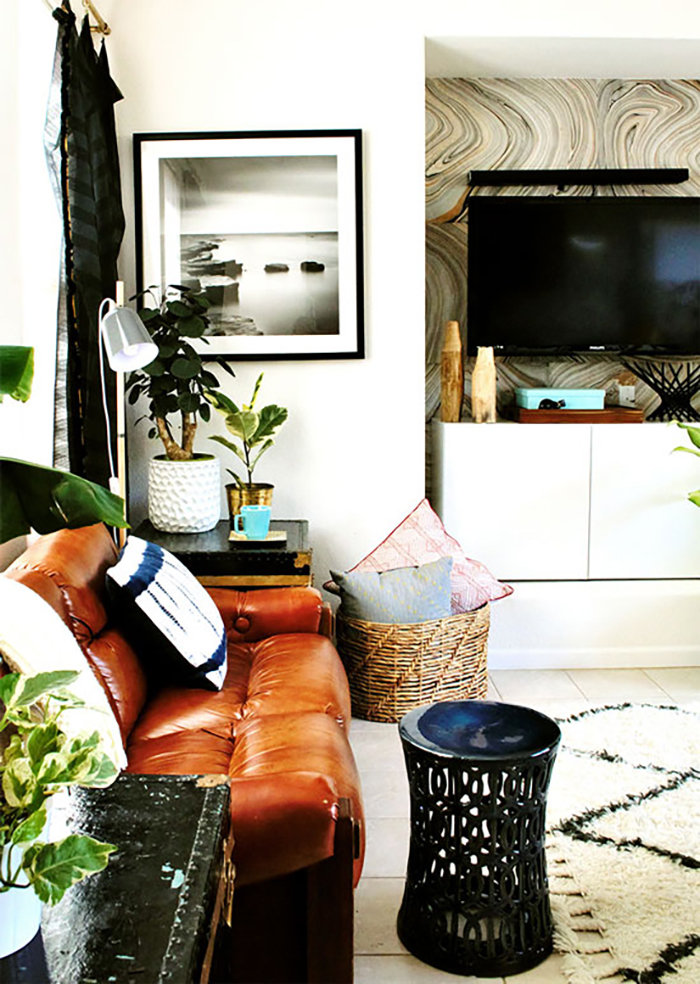 If you have an alcove in your living room, consider placing the television within it. This allows the TV to visually recede from the space. I love the effect here where marble patterned paper has been installed inside the alcove, creating a feature of what could potentially be an eyesore in the room.
Make it into a feature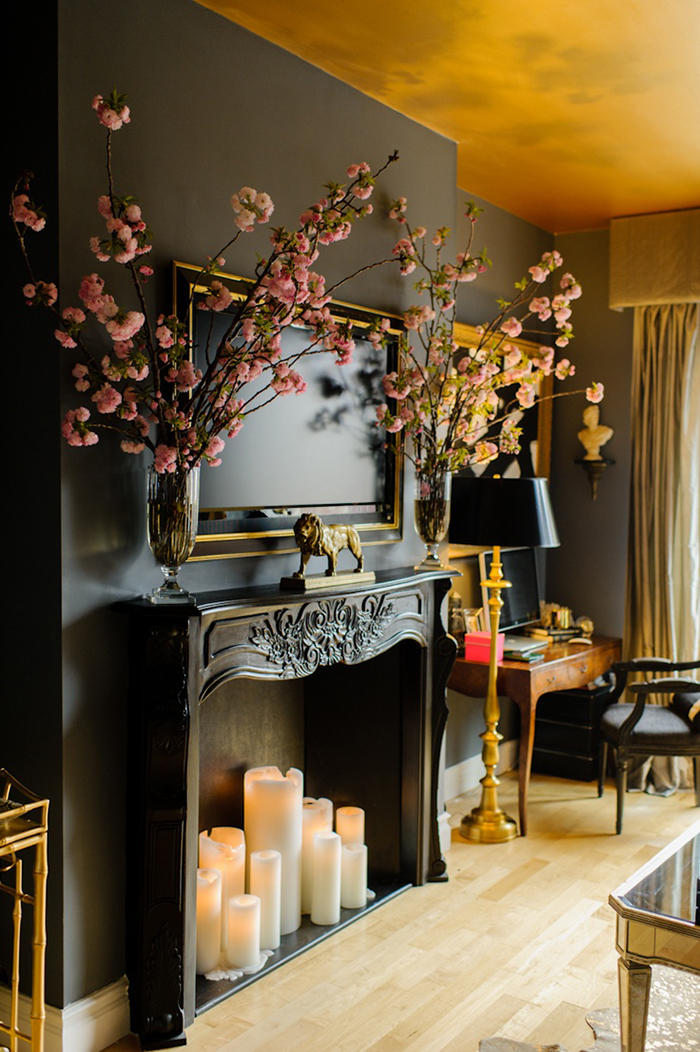 Of course, there's always the option of creating something fun and different in your interiors by using an ornate frame to create an ironic piece of artwork with your television as done in this bedroom. Be sure to use a frame that's slightly larger than your flatscreen and hang it behind it so that it looks as though the TV is a piece of art!
Hide it On a Shelf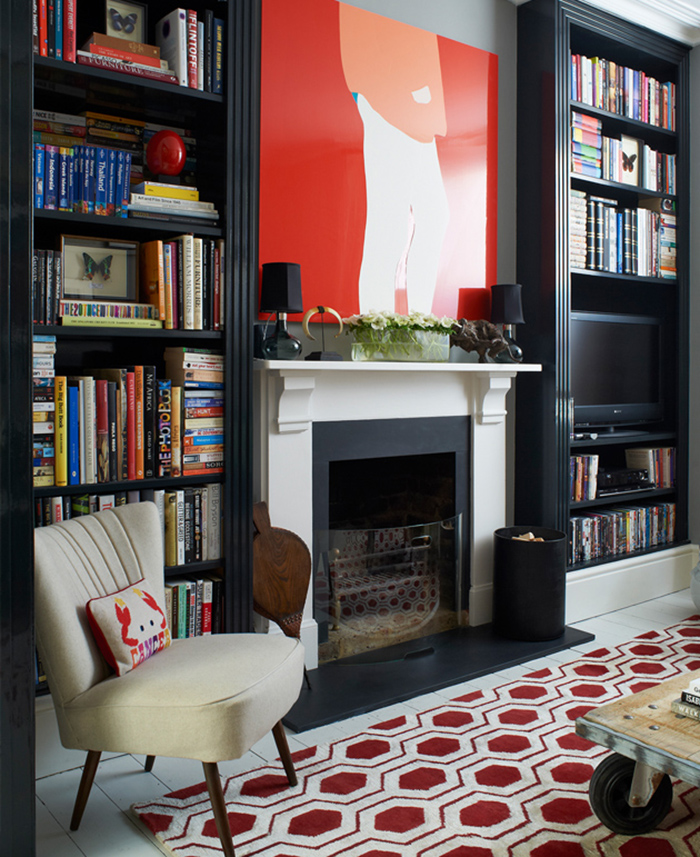 On a light coloured wall, any large black box (ie the TV) is going to stand out. Why not hide the television in plain sight? Painting out a built in bookshelf in a dark colour and placing the TV in one of the openings is a great way to disguise a TV when it's not in use.
Hide it within a piece of furniture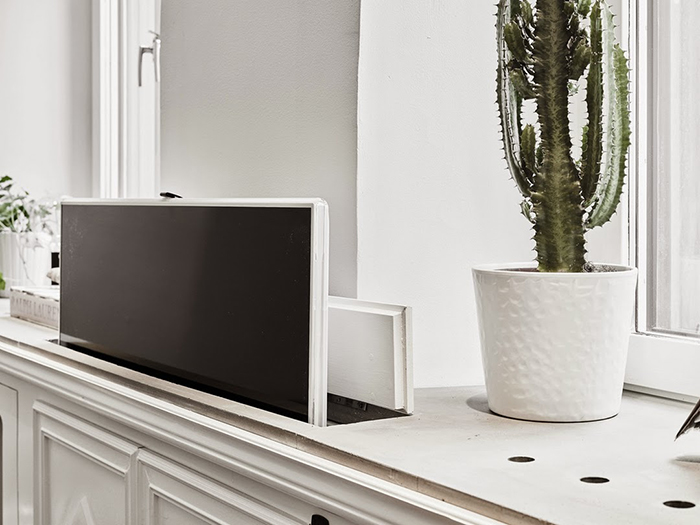 This one will require a bit of custom design work or a carpenter but being able to simply hide the television within a base unit so that it appears when it's being used is a great way of ensuring your TV is not the star of your living room. This clever idea can be utilised in a bedroom or a living area and will definitely impress your friends on film nights!
Be sure to check out our full range of TV cabinets here! How will you be decorating your room around a TV?
Image sources: Quercus Living / Swoon Worthy / Stadshem via Décor Dots / Homey Oh My / Emily Henderson / The Design Confidential / The Decorista / Turner Pocock via Achica Living / Entrance